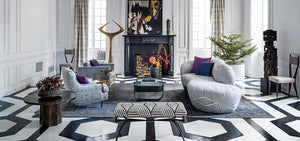 WALLPAPER SAMPLES
Samples
What is the difference between a sample and a cutting?
A sample comes from a random dye lot and its purpose is for you to determine if you want that particular design. A cutting (or CFA) is for the purpose of matching colors. It is much smaller than a sample and comes from the specific dye lot that you will receive when you place an order and specifically request a CFA.

Can I keep samples?
Samples are on loan and you may keep them until you are finished with them. However, when you are finished with them it is important to return them to the proper manufacturer.

What sizes do samples come in?
All samples are meant for interior designers' usage and are very generous. A large pattern will be a large rectangle for you to visualize it accurately. A solid pattern will be an adequate size to view the pattern.

Why are samples priced?
The $5 Sample Fee is a processing fee and is non refundable unless you do not receive your sample. All samples are ordered online.

Can I track my samples?
Manufacturers often mail the samples via USPS and tracking is not available.